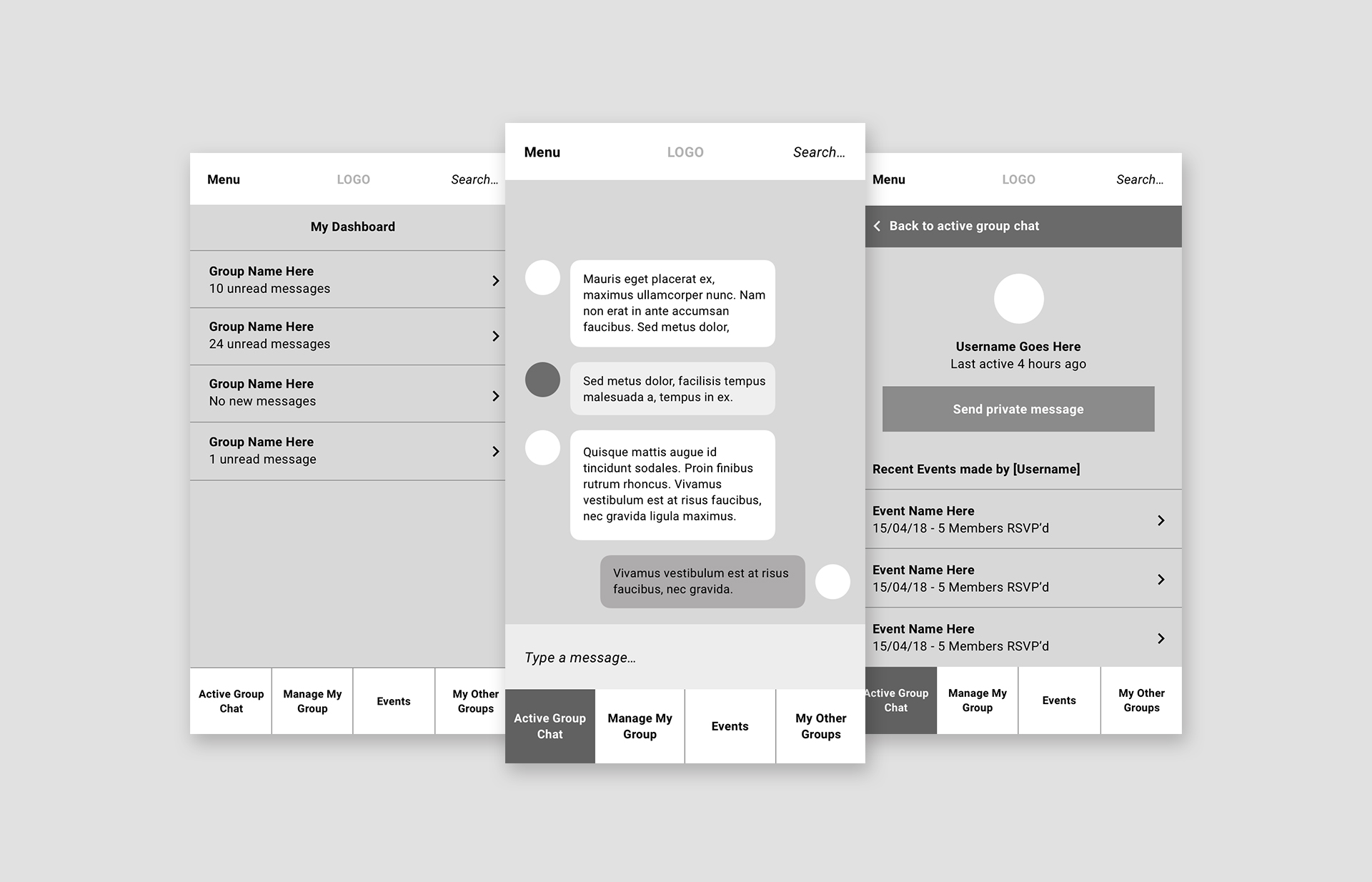 Housemates UX Project
Housemates (name pending) is my personal crusade to help likeminded people connect and have meaningful relationships. Cities are big places and our reliance to only speak to people we know can make it hard to find friends.
Housemates takes your interests and brings you together with local people who share the same goal, whether you need to find new housemates, find local friends, or just someone to talk about that great book you just finished.

The Problem
Every great problem starts with stating it out loud and the idea for housemates grew from a simple statement.
The Process
The process began with 5 sets of interviews. The focus of these interviews was to speak with different people living in shared accommodation and the impact that living with other people had on their mental wellbeing.
A survey was also sent out to a wider audience and research was conducted across current trends and news stories to try and gauge quantitative opinions which we could reflect against the one-to-one interviews. It was through these interviews and the survey that we discovered what we assumed would be problems like chores, people not cleaning up after themselves, and access to shared spaces proved to be minor problems when people lived with others that they considered friends. And when this wasn't the case the way people solved it was to simply move out.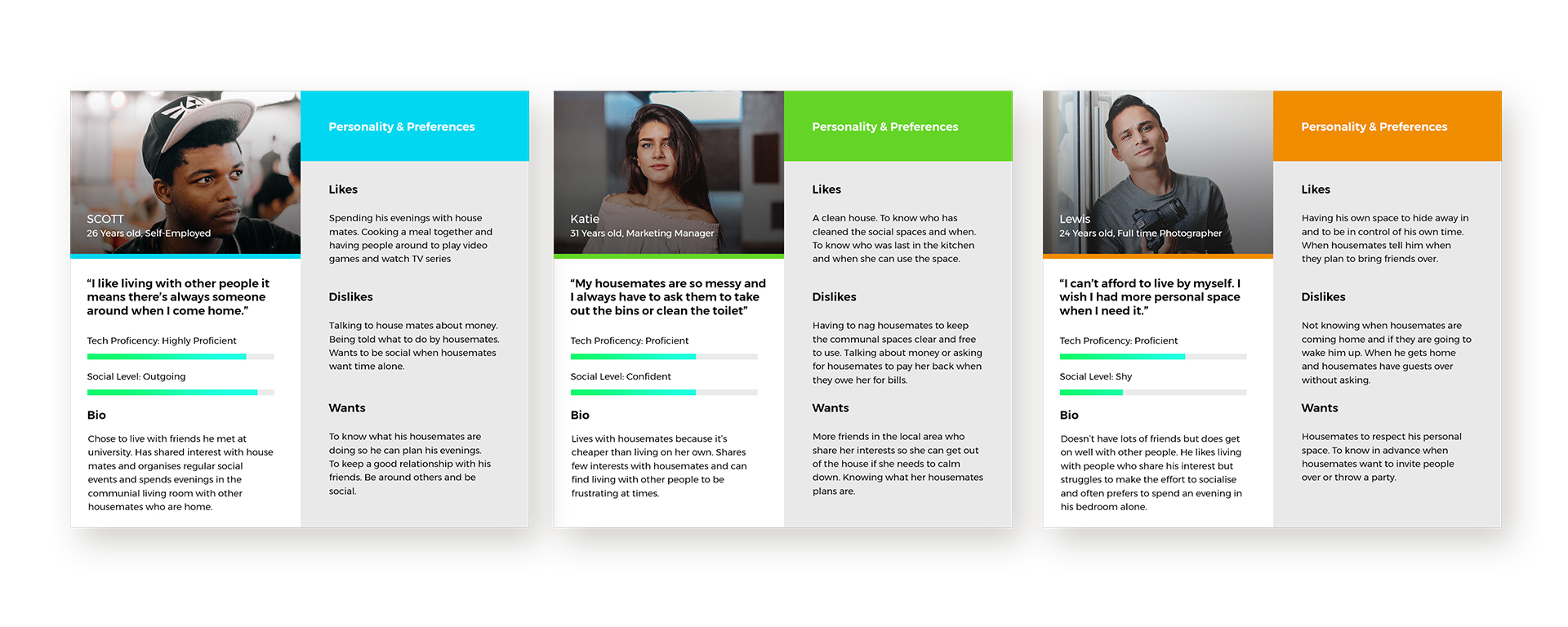 From the research an empathy map and three user personas were created which reflected our findings and gave us focus moving forward.
Working as a team we distilled the information we captured from our research and began exploring possible ideas to turn our research into a product. From this process we pulled out three key ideas which we wanted to develop.
A mood app for housemates to log their current mood and this would reflect on the overall house mood, taken from the feedback idea you see in shops and airports.
A game for when housemates disagree, they can play a short fighting game to see who wins.
Status updates so housemates can easily update their household on there whereabouts and plans.
We decided to take the mood app idea forward and created a journey map that followed our user persona Katie. This persona provided a good opportunity to improve the wellbeing of someone who was forced to live with others due to finances but ultimately wanted to live alone, so improving her relationship with housemates was important.
It was once we started to storyboard this journey that we started to come across problem areas with the idea such as finding naturals ways to keep users coming back and making sure the idea was helping people and not causing problems.
Taking the idea back to the users who I originally interviewed was the nail in the coffin when these users felt this was an app wasn't helpful and could cause tension where simply talking to each other wouldn't.
With this feedback we were charged to go back to our research and re-evaluate exactly what the problem points our users were telling us. Revisiting this information it became obvious to us that housemates had better interactions and mental wellbeing when they lived with friends, and when they didn't they simply moved out.
With this information we wanted to specifically target users ahead of the situation where they need friends. For example - a student has just finished their first year and needs to find some people to live with next year, how can they find meaningful friendships in an easy and effective way.
Ideation
Re-looking at the journey map we started to explore this scenario and came up with a new idea that provided a social space for users to sign up, input their hobbies and interests and be matched with other similar users in their local area. An app to find friends whether that's just to meet new people or to find a group of housemates to move in with.

Above is the user flow I created to explore the pages the app would need as part of it's MVP.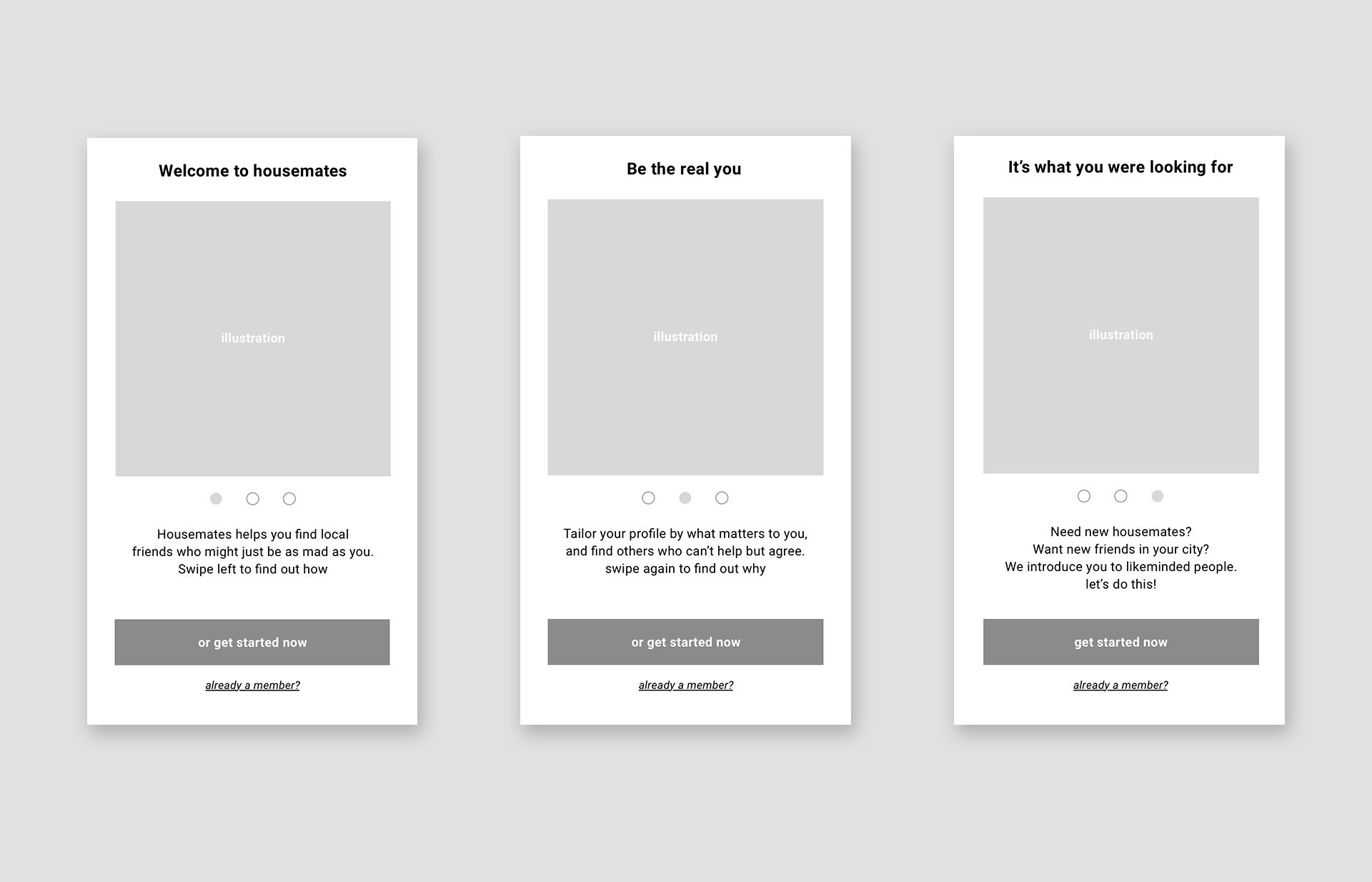 Prototyping & Testing
I created a set of wireframes covering the flow of a user signing up and using the app to make events and manage their groups. From this I put together a clickable prototype using Marvel which I was able to test with a group of users to gain valuable insights.
Insights Gathered
Better to have gender as an open field to not exclude anyone
Have the app open to inviting existing friends
Make users aware of how many people will be in the group they are making and give them control over this
Mange my group menu link could be misleading as you can't edit who is in the group there
Have a dashboard to get high level updates on all your groups and activities